By UCtoday https://www.uctoday.com/collaboration/video-conferencing/angekis-launches-new-blade-vs/




Angekis Launches New Blade VS
Angekis takes the video conferencing battle to established providers

Angekis, the video conferencing manufacturer, is soon to release a new addition to their product family: the Blade VS. Already challenging leading video conferencing hardware providers, the Angekis portfolio consists of the Saber range (Saber AP, 4K, IP20x and Light), Curtana, Toledo, ClearTalk Wireless and Blade.


Crystal clear HD
The new Blade VS comes with crystal clear HD by using high quality sensors and a multi glass lens. Often overlooked in small meeting rooms is video quality, with no expense spared on the board rooms and telepresence solution. These can leave users embarrassed to use the video setup and often opt for audio only. The Blade VS is a perfect alternative to an expensive solution designed for larger meeting rooms.



Compatibility
The Angekis Blade VS is fully compatible with the following apps: ZOOM, Adobe Connect, BlueJeans, CyberLink U Meeting, Cisco Webex, Google Hangouts, GoToMeeting, Intel Unite, Microsoft Lync, Skype, Skype for Business and V-Cube.



Ultra Optix
Ultra Optix is advanced imaging technology that is constantly enhancing your video display. Rather than your image breaking up and suffering from jittery video, the Blade VS delivers a balanced image that renders with the clarity and sharpness for a more defined image.



Flexi Control
The Angekis Flexi Control system gives you complete control over the camera via several mediums. You can control the Blade VS via:

ZoomRoom remote RF controller (Android and iOS compatible)

USB

RS232

AnyAngle RF remote control

Angekis proprietary on screen commands with 7 built in presets
The AnyAngle remote control is included with the Blade VS. Working seamlessly in tandem, Angekis provide you with the perfect accompaniment for their video conferencing kit without limiting you to their controller.


10x + 10x zoom
The Angekis Blade VS comes with both 10x optical zoom and 10x digital zoom. This means you can zoom into any meeting participant, whiteboard or area on the video call without suffering from pixelation. The quality of the video remains even when zoomed in to its most extreme. A little like using a PNG image rather than a JPEG – you can get as close as you can without the picture quality being distorted.





Adjustable lighting
Whether you're sat in a backlit room or a dim office environment, the adjustable lighting feature of the Blade VS has you covered. You can easily adjust the brightness, exposure and backlighting via the remote.

This is ideal for home workers that work in an environment that changes with the sun. For example, working in my garden office often means it's darker towards the end of the day in winter. Alternatively, users situated near windows will be impacted as windows let in light during different parts of the day.




Dynamic startup
With some video conferencing kit, you need to setup the camera position every time you use it. With the Blade VS, the dynamic startup feature allows you to preset the camera position. This is ideal if you use the camera in the same room every day for your morning sales call or for a larger auditorium environment where you broadcast to audience members that have joined remotely.





Plug and play
Like the dynamic startup feature, the Blade VS is built with the user experience in mind. Remember the last time you tried to connect a video camera to your driver, and you ended up late for your meeting because you had to install drivers and get admin access to run the application? Thankfully, the Blade VS is programmed for simple plug and play functionality.

Once plugged in, you can instantly connect to your laptop, audio equipment or video conferencing app.




Three year warranty
Angekis offers a unique three year warranty with the Blade VS. You can feel secure in the knowledge that the Blade VS is fully covered should any issue arise. Angekis takes great pride that their video conferencing hardware exceeds the industry standard.





Tech specs


Features
10x optical zoom

10x digital zoom option

Full HD resolution at 30fps via USB2.0

5° FOV—62.5 FOV

Video output: USB2.0

Visca over USB2.0, RS232 – 128 presets

Zoom Room remote RF Controller supported

Angekis near end on screen app control

RF Remote Control with 10 pre-sets

OSD settings menu via Remote

Kensington Lock Hole

Day/Night Vision Switch


Connectivity

Power port: HEC3800

VISCA IN (RS232)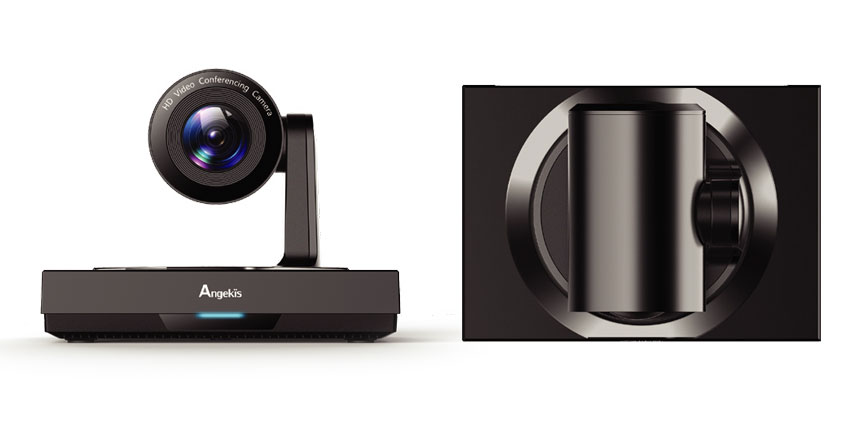 Motorised pan and tilt
Pan: ± 150°

Tilt: 90° (up) -30° (down)

Rotation Speed: Pan – 0 – 120°/s, Tilt – 0 – 80°/s

10 camera pre-sets via IR Remote Control


Video format


Control
Zoom Room RF Controller supported

Visca via USB2.0 & RS232

Angekis NECC onscreen app control

10 via IR Remote Control

128 via RS232 Joystick


Mount
Camera mount included for wall

Reverse mountable, standard tripod screw on bottom of unit


Minimum system requirements


Power supply
Consumption: 12V/2A

Max Consumption: 9W


Environmental data
Working temperature: -5 – 45°C

Storage temperature: -10 – 50°C


Dimensions


Package contents


Warranty


How to buy the Angekis Blade VS
The Angekis Blade VS is due for release over the new few weeks, so watch this space for more information. You can purchase Angekis video units from the following distributors:
Liquid Digital (Australia)

Fahr & Partner (Austria)

Heuff (Benelux)

Fahr & Partner (Germany)


StreamNet (Hungary)

Oricon (Israel)

Solution Technologies (South Africa)

Media Sys (Spain)

Tukans (U.K.)

VDO360 (U.S.)

Connepsys (Nepal)

SatNet (Italy)

Fahr & Partner (Switzerland)

Angekis were also at Integrated Systems Europe this year, showcasing their products to challenge the established players with their range of cutting edge products. You can check out UC Today's review of thelatest Blade 4K UC Camera and find them featured in our Video Conferencing Vendors Market Guide.